HOW NEIGHBORHOOD STREET TREE PLANTINGS WORK:
---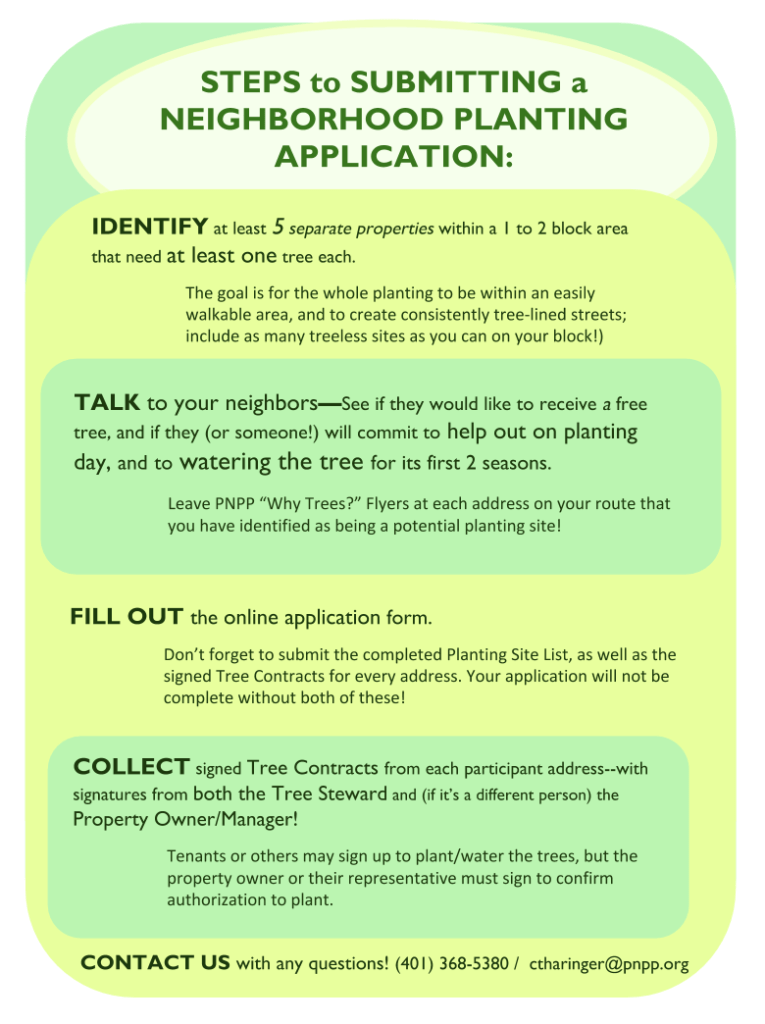 NEIGHBORHOOD PLANTINGS AWARDS ARE THE MAIN WAY WE GET NEW STREET TREES PLANTED IN PROVIDENCE!
The program is an opportunity each Spring & Fall for a group of residents/business-owners to apply to receive 5-25 free street trees in exchange for helping to plant and take care of the young trees.

To organize a planting, someone acts as the "Tree Leader." They organize and submit the application, and are the main contact and coordinator for the planting. Everyone who signs up to receive a tree, commits to help plant the trees on planting day and to water their trees for the first 2 growing seasons.

Awarded plantings take place on Saturdays in April (for the Spring application) or October (for the Fall Application)
              •  Applications for Spring Plantings are due on January 31st
              •  Applications for Fall Plantings are due on July 15th
---
PNPP ESPECIALLY ENCOURAGES LOW-TREE-CANOPY NEIGHBORHOODS TO APPLY FOR PLANTING AWARDS, AND PRIORITIZES APPLICATIONS FROM THESE NEIGHBORHOODS:

Elmwood  •  Smith Hill  •  Federal Hill  •  Valley  •  Olneyville  •  Washington Park   •  Reservoir
• West End • Upper South Providence • Lower South Providence 
---
LINKS TO ALL MATERIALS, FORMS & THE ONLINE APPLICATION MAY BE FOUND HERE:

Make sure you have read through everything before submitting your application!
---
© Copyright Providence Neighborhood Planting Program