Hello PNPP Friends:
We just wanted to introduce you all to our new(ish) Spring 2018 PNPP Intern–Jackie Wells! Jackie is a senior at URI majoring in Human Development & Family Studies (HDF), with a particular interest in community health. As part of her senior fieldwork seminar, Jackie is spending time this semester with PNPP–learning about the link between healthy communities and a healthy urban forest and getting an inside look at the (incredibly glamorous) work of running a small community-based nonprofit 🙂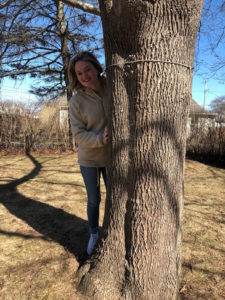 Since trees and urban forestry are fairly new subjects for Jackie, one of the things she'll be doing is recording and sharing some of what she's learning about trees in Providence: biology and info about trees themselves, community efforts to plant and maintain them, and some of the social, environmental, economic and health benefits they provide us with! She'll be keeping an informal blog (link HERE), as well as sharing information through our social media (If you don't already, like us on Facebook and follow us on Twitter & Instagram!)
We're so glad to have Jackie helping us out–stay tuned for more from her, and stop by and say hello at one of the Neighborhood Plantings this Spring!